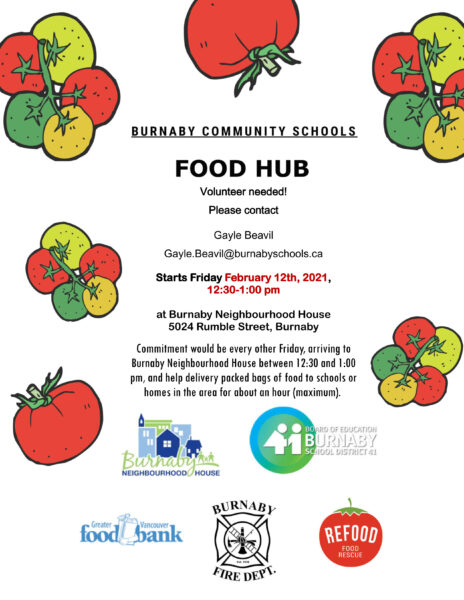 Community Food Hub
Starting February 12, 2021
Our Burnaby community is looking for help to deliver food to our local Community School families. The "FOOD HUB" campaign is run by Second Street Community School, in partnership with the Food Bank, the Burnaby Neighbourhood House and the school district.  This campaign started in the summer of 2020 and FOOD HUB has delivered to almost 200 families.  The numbers are growing as there is still a great need for food within the Burnaby community!
We would need a few more drivers.  Would you be able to help?
The commitment would be every other Friday, arriving to the Burnaby Neighbourhood House Community Hall (5024 Rumble Street, Burnaby) between 12:30 and 1:00 pm, and likely delivery packed bags of food to schools or homes in the area for about an hour (maximum).
We encourage our congregation to consider helping in this cause!
For more information or to volunteer, contact Gayle Beavil at [email protected]