Upcoming Events
See below for various congregational notifications (funerals, service cancellations, etc.), concerts, and special events.
NOWRUZ – Persian New Year Celebration
24 March, 2019 after the Sunday morning service
NOWRUZ Celebration will be held after the morning service, on March 24,  in the Meeting Hall. 
We will be celebrating Nowruz, the Persian New Year, with our Iranian brothers and sisters with some Persian cuisine!
Everyone is welcome and if you have any questions, ask Pastor Jun or Pastor Ray.
Hope to see many of you this Sunday!
---
Free Lent Devotions


Download a free Lenten sampler of Seeking God's Face for your personal or family devotions. Seeking God's Face is available in standard, large print, compact, and e-book editions.
---
ALPHA Course
4 February, 2019, 6:30pm-8:30pm
We will be offering The Alpha Course once again at our church!
---
Women's Thursday Fellowship
This group has been home to many young moms, especially those who speak English as a second language.
Starting Sep 27, 2018: Every Thursday, 1:00PM-2:45PM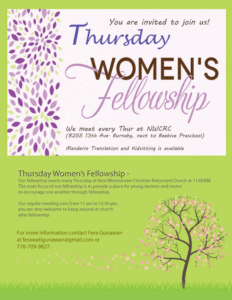 We're inviting moms to join our Thursday group at 1:00 pm-2:45 pm (new time).
We will do a new study series of 9 subjects/chapters on "Sermon on the Mount" (workbook and DVD by Jen Wilkins).
All English levels are fine as we will go thru the series slowly and will have it translated if needed. So far, we have Indonesian, Korean and Mandarin speaking moms in the group, and we're open for more to join. The cost of the workbook will be $17/person.
Children are welcome to tag along in the group. The main focus of our fellowship is to provide a place for young women and moms to encourage one another through fellowship.
For more information contact Fera Gunawan at ferawatigunawan@gmail.com or 778-709-9827.
---
Looking for a free ESL course in Burnaby?
At our Burnaby, New West community at New West Church, we are offering Conversational English classes at no cost, once a week, every Tuesday, 10:30 AM to 12 PM, for 12 weeks.
Next Session

 January 15-April 2, 2019

!
Every Tuesday, 10:30 AM – 12 PM for 12 weeks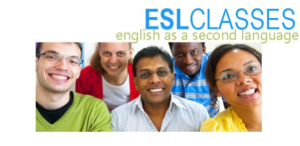 We have room for more students in case you know someone who could benefit from this program. Our program has been modified so that each week we teach new materials, allowing new students to jump right in and at the same time not disrupting the continuity of all students. We believe the students are benefiting greatly from what is being taught. Adults only.
If you would like to know more details, or register, visit the church website at www.nwcrc.ca/esl
---
Sacred Assembly Week
October 21-28, 2018 
to seek God's face
---
Looking for enriching activities and meaningful community in the Burnaby and New Westminster neighborhood?
CHILDREN'S MINISTRIES: CADETS (boys' club) and GEMS (girls' club)  are meeting every other Thursday from 7 PM to 8:30 PM , starting Thurs, Sep 15 at New West CRC. If you're in Gr. 3 to 7, you can join us!  Visit www.nwcrc.ca/calvinist-cadets or www.nwcrc.ca/g-e-m-s for more info.
YOUTH MINISTRY: Student Dynamics  is inviting all Grade 8-12ers to join their club nights on Tuesdays, starting Sep 13 at 7:30-9:00 PM at New West CRC. Any questions, please contact Pastor Ricky at here. Visit us here for more info: http://www.nwcrc.ca/sd/
YOUNG ADULTS BIBLE STUDY: every Thursday at 8 PM at MOSAIC Home. For more info, please contact us thru the form here:www.nwcrc.ca/mosaic
ADULT ESL Class: every Tuesday from 10:30 AM until 12 PM for 12 Tuesdays. Register at www.nwcrc.ca/esl.

YOUNG ADULTS – LOCAL/INTERNATIONAL STUDENTS:
Bible Study: Thursdays at 8 PM. For more details/location, please contact Pastor Jun here.
Sunday Lunch Fellowship: at 12 PM on Sundays. Contact Pastor Jun thru the link above for more info
Sunday Evening Hangout: at 8:30 PM on Sundays after the evening service. To know more about our young adults' ministry, please visit us here.