Upcoming Events
See below for various congregational notifications (funerals, service cancellations, etc.), concerts, and special events.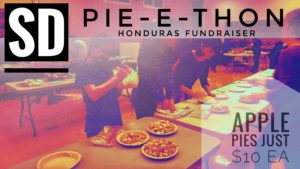 Our yearly Student Dynamcs ​Pie-e-thon fundraiser was a success and we have delicious apple pies available for just 10 dollars. You may purchase them any time after our Sunday Services (10:00am and 7:00pm), or during our regular office hours 9:00am-3:00pm Tuesday-Friday.  It will make one fantastic desert option, available while quantities last.  For more info email Ricky at raguilar@nwcrc.ca.
We pray that these events would be a blessing to the local community and the global community of El Coyolar.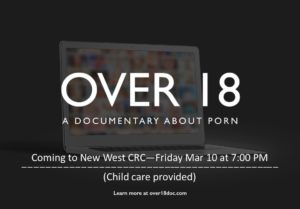 The documentary "Over 18" is coming to New West CRC on March 10 at 7:00 PM. A must-see film for teens, young adults, parents, and grandparents! This widely acclaimed film is being screened across Canada and is raising awareness to pornography's disturbing societal impact. Watch the trailer and read more at www.over18doc.com.
Looking for enriching activities and meaningful community in the Burnaby and New Westminster neighborhood?
CHILDREN'S MINISTRIES: CADETS (boys' club) and GEMS (girls' club)  are meeting every other Thursday from 7 PM to 8:30 PM , starting Thurs, Sep 15 at New West CRC. If you're in Gr. 3 to 7, you can join us!  Visit www.nwcrc.ca/calvinist-cadets or www.nwcrc.ca/g-e-m-s for more info.
YOUTH MINISTRY: Student Dynamics  is inviting all Grade 8-12ers to join their club nights on Tuesdays, starting Sep 13 at 7:30-9:00 PM at New West CRC. Any questions, please contact Pastor Ricky at here. Visit us here for more info: http://www.nwcrc.ca/sd/
YOUNG ADULTS BIBLE STUDY: every Thursday at 8 PM at MOSAIC Home. For more info, please contact us thru the form here:www.nwcrc.ca/mosaic
ADULT ESL Class: every Tuesday from 10:30 AM until 12 PM for 12 Tuesdays. Register at www.nwcrc.ca/esl.

YOUNG ADULTS – LOCAL/INTERNATIONAL STUDENTS:
Bible Study: Thursdays at 8 PM. For more details/location, please contact Pastor Jun here.
Sunday Lunch Fellowship: at 12 PM on Sundays. Contact Pastor Jun thru the link above for more info
Sunday Evening Hangout: at 8:30 PM on Sundays after the evening service. To know more about our young adults' ministry, please visit us here.