Upcoming Events
See below for various congregational notifications (funerals, service cancellations, etc.), concerts, and special events.
There will not be a
SOUP
Sunday

 on 23rd September.
We will be having MOSAIC lunch at church this Sunday and have
Mid-Autumn Festival

celebration together!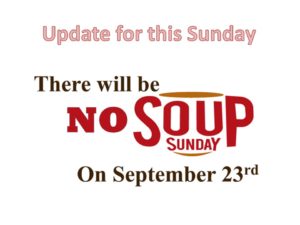 Friday, October 5, 7:00 PM
I AM NOT MY OWN TOUR
with Musician Jeremy Benjamin
Singer-songwriter Jeremy Benjamin is bringing his "I Am Not My Own Tour" to New Westminister CRC! Join us and invite your friends as Jeremy performs on Friday, October 5 at 7:00 pm.
Proceeds will go to World Renew, John Knox Christian School, and Jeremy's worship ministry, so come prepared to give generously!
Find out more by calling 800-730-3490 or at iamnotmyown.org

Find out more by calling 800-730-3490 or at iamnotmyown.org
VOCATION – Integral, Not Incidental to The Work of God
Free Breakfast Event with Dr. Steve Garber
October 20, 2018  8:30-11:00AM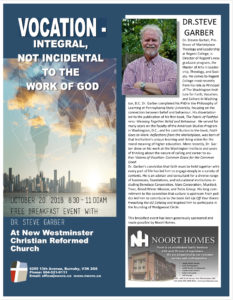 This Free Breakfast Event has been generously sponsored and made possible by Noort Home.
Marriage Course at NWCRC
THE MARRIAGE COURSE will be offered again this fall!
On Friday, Sep 28, 7:00PM

at NWCRC, we will host a

"Marriage Party" for you to learn about the course and the details, and hear from others who have taken it.
There will be no obligation to take the course if you are not comfortable.
Course will take place at NWCRC on the following Fridays: 
Oct 12, 19, 26, Nov 2, 16, 23, 30, 
 7:00 – 9:30PM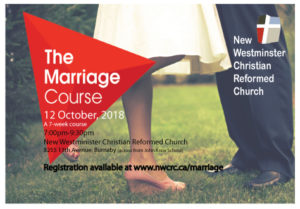 The Marriage Course is developed by Alpha International, designed for couples seeking practical support to strengthen their relationship.
Over seven sessions, you will explore:
Understand each other's needs
Communicate more effectively
Grow closer by learning methods to resolve conflict
Recover from the ways you may have hurt each other
Recognize how your upbringing affects your relationship
Improve relationships with parents and in-laws
Develop greater sexual intimacy
Discover each other's "love language" and more….
Any Other Questions? Email office@nwcrc.ca or
speak to Mike and Colleen Hoyer or Pastor Jun.
Women's Thursday Fellowship
This group has been home to many young moms, especially those who speak English as a second language.
Starting Sep 27, 2018: Every Thursday, 1:00PM-2:45PM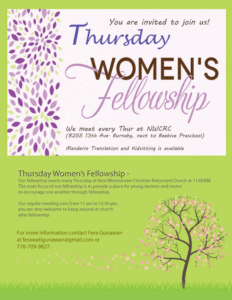 We're inviting moms to join our Thursday group at 1:00 pm-2:45 pm (new time).
We will do a new study series of 9 subjects/chapters on "Sermon on the Mount" (workbook and DVD by Jen Wilkins).
All English levels are fine as we will go thru the series slowly and will have it translated if needed. So far, we have Indonesian, Korean and Mandarin speaking moms in the group, and we're open for more to join. The cost of the workbook will be $17/person.
Children are welcome to tag along in the group. The main focus of our fellowship is to provide a place for young women and moms to encourage one another through fellowship.
For more information contact Fera Gunawan at ferawatigunawan@gmail.com or 778-709-9827.
Looking for a free ESL course in Burnaby?
At our Burnaby, New West community at New West Church, we are offering Conversational English classes at no cost, once a week, every Tuesday, 10:30 AM to 12 PM, for 12 weeks.
Next Session will start on

11 September 2018

!
Every Tuesday, 10:30 AM – 12 PM for 12 weeks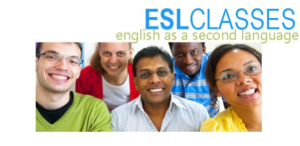 We have room for more students in case you know someone who could benefit from this program. Our program has been modified so that each week we teach new materials, allowing new students to jump right in and at the same time not disrupting the continuity of all students. We believe the students are benefiting greatly from what is being taught. Adults only.
If you would like to know more details, or register, visit the church website at www.nwcrc.ca/esl
Looking for enriching activities and meaningful community in the Burnaby and New Westminster neighborhood?
CHILDREN'S MINISTRIES: CADETS (boys' club) and GEMS (girls' club)  are meeting every other Thursday from 7 PM to 8:30 PM , starting Thurs, Sep 15 at New West CRC. If you're in Gr. 3 to 7, you can join us!  Visit www.nwcrc.ca/calvinist-cadets or www.nwcrc.ca/g-e-m-s for more info.
YOUTH MINISTRY: Student Dynamics  is inviting all Grade 8-12ers to join their club nights on Tuesdays, starting Sep 13 at 7:30-9:00 PM at New West CRC. Any questions, please contact Pastor Ricky at here. Visit us here for more info: http://www.nwcrc.ca/sd/
YOUNG ADULTS BIBLE STUDY: every Thursday at 8 PM at MOSAIC Home. For more info, please contact us thru the form here:www.nwcrc.ca/mosaic
ADULT ESL Class: every Tuesday from 10:30 AM until 12 PM for 12 Tuesdays. Register at www.nwcrc.ca/esl.

YOUNG ADULTS – LOCAL/INTERNATIONAL STUDENTS:
Bible Study: Thursdays at 8 PM. For more details/location, please contact Pastor Jun here.
Sunday Lunch Fellowship: at 12 PM on Sundays. Contact Pastor Jun thru the link above for more info
Sunday Evening Hangout: at 8:30 PM on Sundays after the evening service. To know more about our young adults' ministry, please visit us here.