Upcoming Events
See below for various congregational notifications (funerals, service cancellations, etc.), concerts, and special events.
---
Cadets' Pancake Breakfast
Monday November 11, 8AM-10AM
The Cadets are hosting the famous, fabulous, fundraising pancake breakfast from 8 AM to 10 AM on Monday, Nov 11.

Hope to see you there as you experience the Cadet breakfast adventure.
$5.5/person. Family of 5 or more $25.00.
Invite your family and friends to come and join!
---
MULTICULTURAL Worship Night
Thursday, October 31st, at 7:30 PM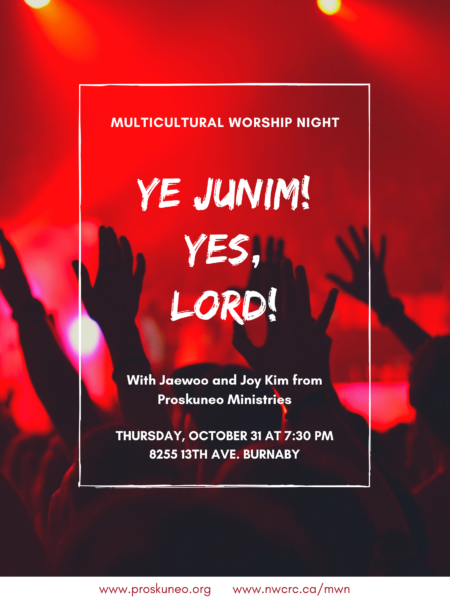 Our next gathering will be on Thursday, October 31 (instead of November 7) and we will be welcoming Jaewoo and Joy Kim as our guest speakers/worship leaders. Jaewoo is a multicultural worship leader and songwriter for Proskuneo Ministries who has written many of the songs that we've been singing at our gatherings. Joy, with her background in ethnomusicology, works with diaspora artists from diverse backgrounds to build multicultural worshiping communities around the world. We are looking forward to continuing worshiping our God in a variety of languages and cultural expressions!
Listen to some of our favorite songs form them:
We Meet First Thursday of the month, at

7:30-9:00pm

Join us as we gather to experience a glimpse of Revelation 7 where people from every nation, tribe, people and language standing before the throne of God, one in worship! We meet every first Thursday of the month at 7:30 PM at New Westminster CRC.  Except for the month of Nov, 2019.

Multicultural Worship Night is part of an ongoing partnership between
New Westminster Christian Reformed Church
House For All Nations Church (http://www.houseforallnations.org/)
Nanoom (https://www.nanoomca.org/),
working toward building relationships amongst Christians of diverse ethnic backgrounds.
---
Human Sexuality Series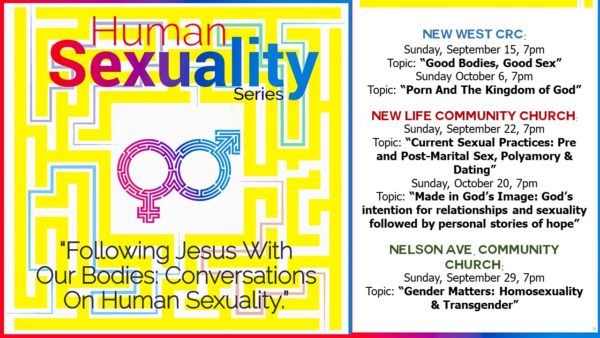 The three churches in Burnaby (New Westminster Christian Reformed Church, New Life Community Church, Nelson Ave. Community Church) banded together in September and October, 2019 and had offered a 5-evening conversation on Human Sexuality.
Click on links below to listen to some of the talks:
Facilitator: Pastor Mary-Lee Bouma
September 22 (No audio):
"Current Sexual Practices: Pre and Post-Marital Sex, Polyamory & Dating"
Facilitator: Pastor Mary-Lee Bouma
Facilitator: Pastor Mary-Lee Bouma
October 20 (No audio):
"Made in God's Image: God's intention for relationships and sexuality followed by personal stories of hope"
Facilitator: Scott Neufeld (Journey Canada)
---
Women's Fellowship
This group has been home to many young moms, especially those who speak English as a second language.
Starting September!
Every Friday, 9:30AM – 11:00AM
We're inviting moms to join our  group on Friday, at 9:30 AM, we will meet at the room on the second floor of New Westminster Christian Reformed Church, next to the nursery room
We will study a series of 9 subjects/chapters on "Sermon on the Mount" (workbook and DVD by Jen Wilkins). 
All English levels are fine as we will go thru the series slowly and will have it translated if needed. So far, we have Indonesian, Korean and Mandarin speaking moms in the group, and we're open for more to join.
Children are welcome to tag along in the group. The main focus of our fellowship is to provide a place for young women and moms to encourage one another through fellowship.
For more information contact Wei Ping Huang at santalumwp@gmail.com or 778-861-6733.
---
Sacred Assembly Week
October 21-28, 2018 
to seek God's face
---
Looking for enriching activities and meaningful community in the Burnaby and New Westminster neighborhood?
CHILDREN'S MINISTRIES: CADETS (boys' club) and GEMS (girls' club)  are meeting every other Thursday from 7 PM to 8:30 PM , starting Thurs, Sep 15 at New West CRC. If you're in Gr. 3 to 7, you can join us!  Visit www.nwcrc.ca/calvinist-cadets or www.nwcrc.ca/g-e-m-s for more info.
YOUTH MINISTRY: Student Dynamics  is inviting all Grade 8-12ers to join their club nights on Tuesdays, starting Sep 13 at 7:30-9:00 PM at New West CRC. Any questions, please contact Pastor Ricky at here. Visit us here for more info: http://www.nwcrc.ca/sd/
YOUNG ADULTS BIBLE STUDY: every Thursday at 8 PM at MOSAIC Home. For more info, please contact us thru the form here:www.nwcrc.ca/mosaic
ADULT ESL Class: every Tuesday from 10:30 AM until 12 PM for 12 Tuesdays. Register at www.nwcrc.ca/esl.

YOUNG ADULTS – LOCAL/INTERNATIONAL STUDENTS:
Bible Study: Thursdays at 8 PM. For more details/location, please contact Pastor Jun here.
Sunday Lunch Fellowship: at 12 PM on Sundays. Contact Pastor Jun thru the link above for more info
Sunday Evening Hangout: at 8:30 PM on Sundays after the evening service. To know more about our young adults' ministry, please visit us here.