Upcoming Events
See below for various congregational notifications (funerals, service cancellations, etc.), concerts, and special events.
FUNERAL: for Kees Van Driel will be held this Friday, March 27, 2015, at 1 PM at Fleetwood CRC.
PALM SUNDAY EVENING SERVICE:  The Gloria Dei Chorale, under the direction of Betty-Ann Vroom, is pleased to present their Palm Sunday Service, featuring choral selections, readings, and congregational songs, on Sunday, March 29 at 7:00 pm in the Worship Service at the New Westminster CRC, 8255 13th Ave, Burnaby, BC.  A free-will offering will be taken.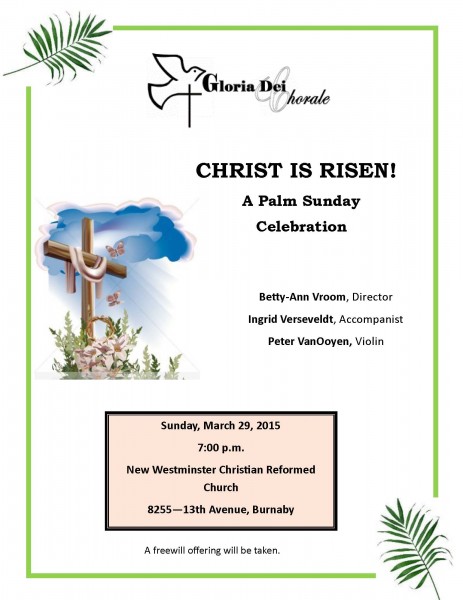 WEDNESDAY MORNING MEET-UP: is cancelled this week, Wed March 11th. We will also be taking 2-week break during the reading break (March 16-27). We will be back on Wed April 2 at 8:45 AM to 11 AM. Thank you!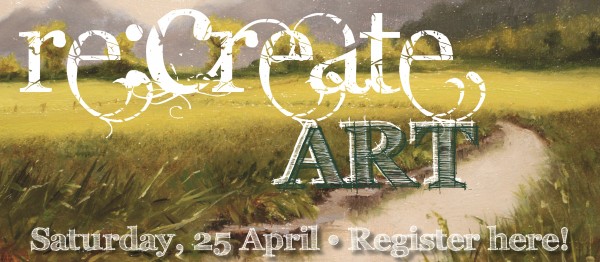 RE:CREATE ART SHOW: is back again this year on Saturday, Apr 25, 2015 at New West CRC. Visit our webpage here.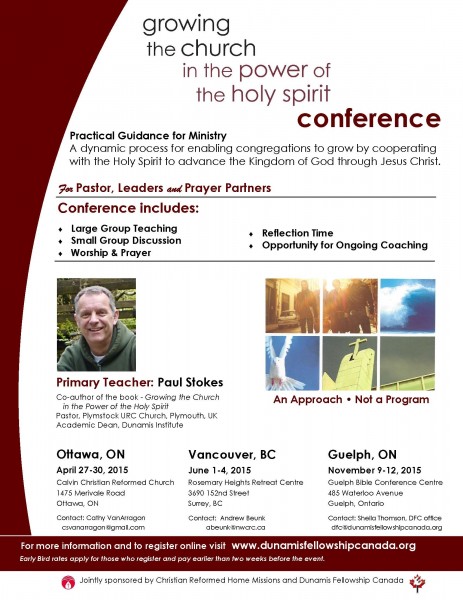 GROWING THE CHURCH VANCOUVER BC 2015: 
Jesus Christ has invited us to work with Him in building His Church and extending His Kingdom in the world. He does this by sending the Holy Spirit to grow us from within, to be his disciples and to come upon us for empowerment and gifts to work with Him. The purpose of this equipping is to learn these dynamics of cooperation so we can enter the dance with Christ and the Holy Spirit through which Christ grows His Church.
Beneath the surface of churches' programs and activities lies the fundamental question: How can leaders and churches be enabled to discern and obediently cooperate with the guidance of the Holy Spirit? Since the Kingdom of God is an active expression of the Spirit's reign on earth, it is extended and realized as individuals and churches seek and submit to his will and purposes.
At this Growing the Church Conference we will explore practical ways for leaders in the Christian Reformed and Presbyterian churches to be nurtured and sustained in the process of cooperating with the Holy Spirit.
More details and to register, please go here.
"THE MORNING MEET-UP WITH NO NAME": Are you a mom or dad looking for a way to spend Wednesday mornings with your kids? Or maybe a Gramma wanting to share some homemade cookies with those same kids? It's an open invitation! Join us in the meeting hall on Wednesdays any time after 8:45 AM for coffee, cookies, kids' play time, and hopefully some good conversation. For more information, call the office at 604-521-0111.
ESL Class (English as a Second Language): We're offering our conversational ESL Class for our Burnaby and New Westminster neighborhood starting Tuesday, Jan 13, 2015 at 10:30 AM to 12 PM. The class will be held every Tuesday for 12 weeks. Free class. Adults only. To register, please go here. Questions? Call 604-521-0111 or email office@nwcrc.ca.