Upcoming Events
See below for various congregational notifications (funerals, service cancellations, etc.), concerts, and special events.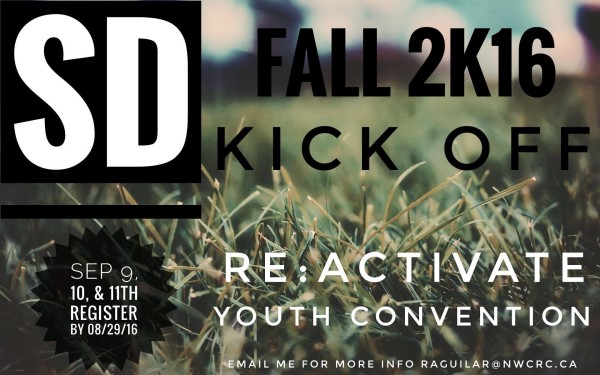 Excited to inform that for the Student Dynamics fall kick off we have decided to join Re:Activate youth convention.

When: Sep 9,10, 11 – Register by 08/29/16
Price: $75 a person. 
Location: Abbotsford, BC
Interested? Well go and register Here
You don't have to pay when you register, you pay the church later
Have questions? email me at raguilar@nwcrc.ca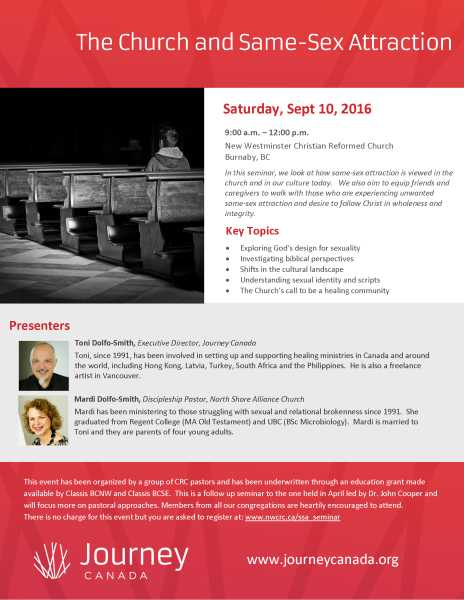 "THE CHURCH AND SAME-SEX ATTRACTION"
9:00 a.m. – 12:00 p.m. Saturday, Sep 10, 2016
New Westminster Christian Reformed Church
8255 13th Avenue, Burnaby, BC.
In this seminar, we look at how same-sex attraction is viewed in the church and in our culture today. We also aim to equip friends and caregivers to walk with those who are experiencing unwanted same-sex attraction and desire to follow Christ in wholeness and integrity.

Toni Dolfo-Smith, Executive Director, Journey Canada

Mardi Dolfo-Smith, Discipleship Pastor, North Shore Alliance Church

This event has been organized by a group of CRC pastors and has been underwritten through an education grant made available by Classis BCNW and Classis BCSE. This is a follow up seminar to the one held in April led by Dr. John Cooper and will focus more on pastoral approaches. Members from all our congregations are heartily encouraged to attend. There is no charge for this event but you are asked to register here.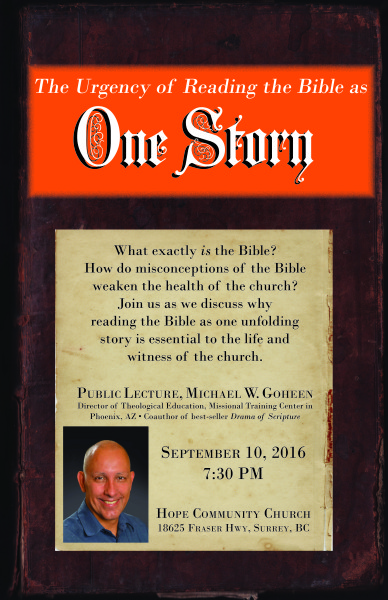 The Story of the Bible: Public Lecture
Are you curious about how to read the Bible? Have you ever wondered how it all fits together? On Saturday, Sept 10, at 7:30 pm, Mike Goheen will be giving a talk at Hope Community Church, 18625 Fraser Hwy, Surrey, on the how to read the bible as a unified story. Whether you're new to the Christian faith or a seasoned believer, this talk will enable you to see the rich overarching story of the Bible and find your place in it. Evening will include a time for Q & A. Everyone is welcome to attend. Refreshments will be provided.
Seminar "Seriously Dangerous Religion" by Iain Provan, Marshall-Sheppard Professor of Biblical Studies at Regent College. He is a world-renowned scholar who has written numerous commentaries and books on the Old Testament. (Title based on Provan's book Seriously Dangerous Religion: What the Old Testament Really Says and Why It Matters).
If you have a friend who has questions or misconceptions about the Old Testament, this is an excellent seminar for them. The seminar topics include "Who is God?", "Who are We?", and "How Shall We Live?"
Dates:
Session 1: Fri, Sept 16 @ 7:30pm
Session 2: Sat, Sept 17 @ 9am
Session 3: Sat, Sept 17 @ 10:30am
Location:
New Life Community Church (8765 Government Street)
Registration:
Email: info@newlifeburnaby.ca.
Phone: 604.420.0761
Cost:
3 Sessions: $20
One day only: $10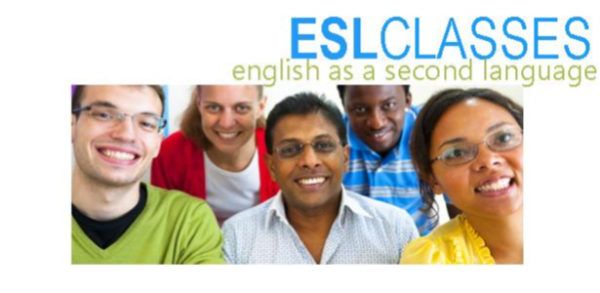 ESL Class is back! Starting on Tuesday, Sep 13, 2016 at 10:30 AM until 12 PM, we're offering free ESL class for community for 12 weeks. With the focus on conversational English, each week we teach new materials, allowing new students to jump right in and at the same time not disrupting the continuity of all students. We believe the students are benefiting greatly from what is being taught. Adults only. To register, please visit here.

YOUNG ADULTS – LOCAL/INTERNATIONAL STUDENTS:
Bible Study: There are two of them. One is on Tuesdays at 8 PM and the other one is on Thursdays at 8 PM. For more details/location, please contact Pastor Jun here.
Hangout: On Sundays after the evening service. To know more about our young adults' ministry, please visit us here.
Volleyball Night: After the evening service, Sunday Jul 31