Upcoming Events
See below for various congregational notifications (funerals, service cancellations, etc.), concerts, and special events.
On May 15,

 

beginning of the season of Ramadan
Pray for the Muslims World
We encourage everyone to pray for the Muslim World during the season of Ramadan, which starts on May 15!

Evening Teaching Services with Dr. Don Little
May 20, Sunday, 7:00PM
Understanding and Befriending Muslims – Part 2
In this session we'll discuss ways of meeting and developing authentic friendships with our Muslim neighbors, classmates and co-workers.

Thursday Women's Fellowship
Every Thursday, 11:00AM-12:30PM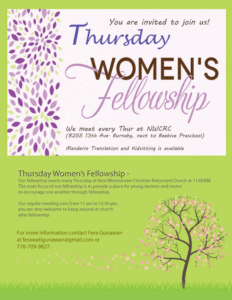 Our fellowship meets every Thursday at New Westminster Christian Reformed Church at 11:00AM.
The main focus of our fellowship is to provide a place for young women and moms to encourage one another through fellowship.
Our regular meeting runs from 11 am to 12:30 pm, you are very welcome to hang around at church after fellowship.
For more information contact Fera Gunawan at ferawatigunawan@gmail.com or 778-709-9827.
Looking for a free ESL course in Burnaby?
At our Burnaby, New West community at New West Church, we are offering Conversational English classes at no cost, once a week, every Tuesday, 10:30 AM to 12 PM, for 12 weeks.
Next Session will start in September 2018!
Every Tuesday, 10:30 AM – 12 PM for 12 weeks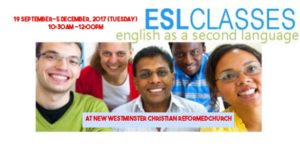 We have room for more students in case you know someone who could benefit from this program. Our program has been modified so that each week we teach new materials, allowing new students to jump right in and at the same time not disrupting the continuity of all students. We believe the students are benefiting greatly from what is being taught. Adults only.
If you would like to know more details, or register, visit the church website at www.nwcrc.ca/esl
Looking for enriching activities and meaningful community in the Burnaby and New Westminster neighborhood?
CHILDREN'S MINISTRIES: CADETS (boys' club) and GEMS (girls' club)  are meeting every other Thursday from 7 PM to 8:30 PM , starting Thurs, Sep 15 at New West CRC. If you're in Gr. 3 to 7, you can join us!  Visit www.nwcrc.ca/calvinist-cadets or www.nwcrc.ca/g-e-m-s for more info.
YOUTH MINISTRY: Student Dynamics  is inviting all Grade 8-12ers to join their club nights on Tuesdays, starting Sep 13 at 7:30-9:00 PM at New West CRC. Any questions, please contact Pastor Ricky at here. Visit us here for more info: http://www.nwcrc.ca/sd/
YOUNG ADULTS BIBLE STUDY: every Thursday at 8 PM at MOSAIC Home. For more info, please contact us thru the form here:www.nwcrc.ca/mosaic
ADULT ESL Class: every Tuesday from 10:30 AM until 12 PM for 12 Tuesdays. Register at www.nwcrc.ca/esl.

YOUNG ADULTS – LOCAL/INTERNATIONAL STUDENTS:
Bible Study: Thursdays at 8 PM. For more details/location, please contact Pastor Jun here.
Sunday Lunch Fellowship: at 12 PM on Sundays. Contact Pastor Jun thru the link above for more info
Sunday Evening Hangout: at 8:30 PM on Sundays after the evening service. To know more about our young adults' ministry, please visit us here.