Upcoming Events
See below for various congregational notifications (funerals, service cancellations, etc.), concerts, and special events.
WORSHIP CONFERENCE
Click here to see more details and to register.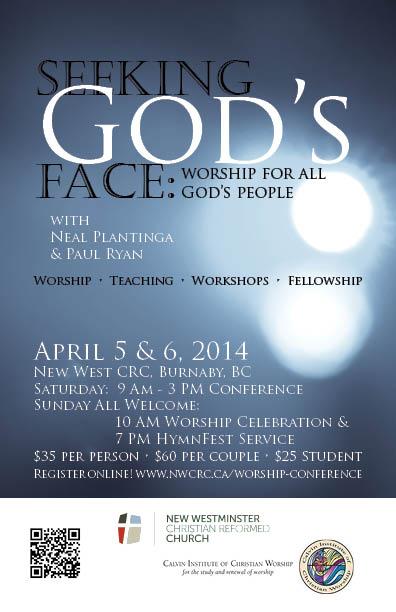 SALAAM PROJECT
THE SALAAM PROJECT: "BRIDGES TO THE GOSPEL": On March 9, during our 7 pm service, we will be welcoming a special guest, Mr. Greg Sinclair. Greg is the project manager for Salaam Project, a multi-agency initiative of the CRCNA to equip our churches to engage with Muslims in North America. Salaam Project also seeks to mobilize the church for missions to Muslims. Greg was a missionary with CRWM from 1992-2001 working in Mali, West Africa among the Fulani people. This presentation will look at the Hadith and the Quran in order to understand the similarities and differences between Christianity and Islam. We will also view a brief video by Fouad Masri, a Lebanese Christian, on similarities and differences, and using especially similarities to bridge to the Gospel when discussing faith with our Muslim friends and neighbours. The key is forming relationships and then nurturing trust and mutual understanding. From there, opportunities arise to witness to our faith with the help of the Holy Spirit. The goal is to understand Islam a little better and feel encouraged to reach out. There will be time for discussion and questions. Be sure to attend!
ESL CLASSES
ESL Classes will begin again on January, 14, 2014 for 12 weeks. We will meet at New Westminster Christian Reformed Church at 10:45 every Tuesday. Please contact the church office to register. office@nwcrc.ca | 604.521.0111
CADETS
The Cadets season is underway…Click here for details.
ESL
ESL Courses are continuing until the end of November.. Click here for details.
GEMS
GEMS has begun for the 2013/2014 season… Click here for details.
SENIORS' SJOELBAK (SHUFFLEBOARD) SOCIAL
The Seniors' Sjoelbak Social (Shuffleboard) is ongoing, every Friday…. Click here for details.
STUDENT DYNAMICS
Student Dynamics meetings every Tuesday… click here for details.