Upcoming Events
See below for various congregational notifications (funerals, service cancellations, etc.), concerts, and special events.
---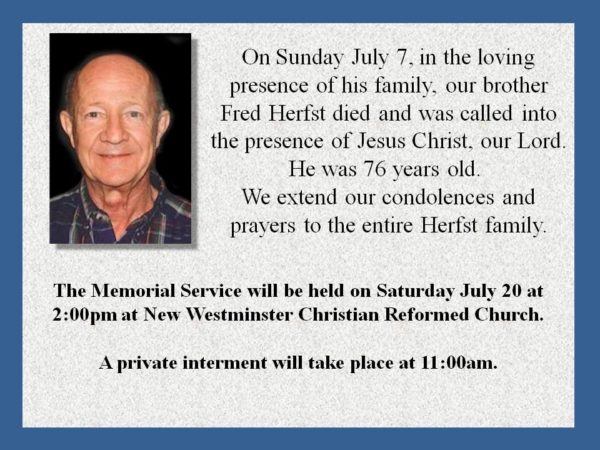 On Sunday July 7, in the loving presence of his family, our brother Fred Herfst died and was called into the presence of Jesus Christ, our Lord. He was 76 years old.
Fred and Ann have been members of our congregation for close to 50 years. Fred will be remembered for his wise, calm, measured, thoughtful, and kind-hearted presence in our community. He faithfully served in a variety of leadership roles over his many years–Council, Pastoral Elders, Stephen's Ministry–as well as on various teams, committees, and task forces. A master at writing policies, governance, and bylaws, he delighted in good process, prudence, and orderliness. His gifts were shared well beyond his family and congregation. Believing deeply that the Kingdom of Christ was to impact all areas of life, he gave himself fully to serving and supporting Christian and Independent schools in BC. He will be remembered by many in our province as a champion of parental choice in education and as a man of faithfulness, integrity, and good-will.
Married just short of 48 years (July 10) he will be deeply missed by Ann, and their children, Richard and Marie, Monique and Ted, Dennis and Theresa, and all of his grandchildren: Brian, Krystal, Derek, Michele, David, Eric, Noah, Nathan, Samantha, and Matthew.
The Memorial Service will be held on Saturday July 20 at 2:00pm at New Westminster Christian Reformed Church.
A private interment will take place at 11:00am.
We extend our condolences and prayers to the entire Herfst family. We will miss Fred dearly, but are grateful to Jesus Christ for the hope we have in His resurrection.
---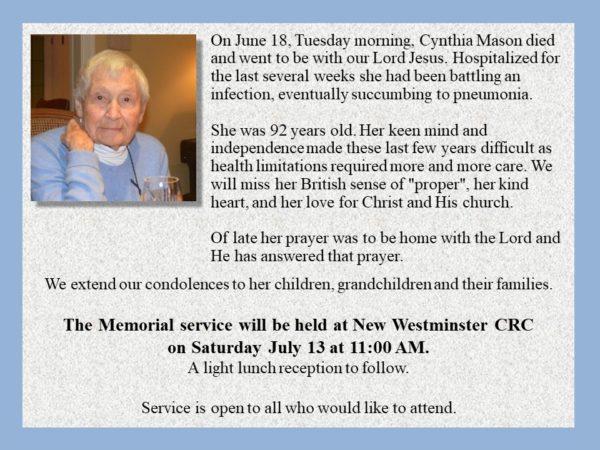 Cynthia Mason
2 March, 1927 – 18 June, 2019
The Memorial service will be held at New Westminster CRC on Saturday July 13 at 11:00 AM.
A light lunch reception to follow.
Service is open to all who would like to attend.
---
14 July, 2019, 7:00PM
Summer Evening
Video Teaching Series:
"Cultural Engagement
and Scripture"
This summer, we will be learning from a series of video teachings from Dr. Darrell L. Bock 
How do we live together well? How do we culturally engage in the manner that's best for everyone, considering the diversity that we live in the midst of? This series will guide us through cultural engagement and Scripture and help us to analyze the cultures that we live in and the ways they structure our lives.
Some of the topics that will be covered in this series:
The Christian's Place in the Culture
A Core Tension: Diversity of Views
Richard Niebuhr on Christ and Culture: Six Approaches
The Bible and Culture: The Hermeneutics of Reading Both
Things the Bible Is Said to Say about Same-Sex Marriage
Civil and Pastoral Questions
Observations about Doing Cultural Reflection in Scripture
Loving One's Neighbor with Compassion and Care
The Influence of Differing Worldviews
Each teaching will be followed by the time of discussion led by Pastor Andrew
Dr. Darrell L. Bock is senior research professor of New Testament studies and executive director of cultural engagement at Dallas Theological Seminary. He also serves as editor-at-large for Christianity Today.
---
Vacation Bible School (VBS)
We will not be offering VBS this summer.
Details of other events during the summer will be announced on the website.
Please check with Jenny at (604) 521-0111 if you have any questions.
---
MULTICULTURAL Worship Night
First Thursday of the month
7:30-9:00pm
Join us as we gather to experience a glimpse of Revelation 7 where people from every nation, tribe, people and language standing before the throne of God, one in worship! We meet every first Thursday of the month at 7:30 PM at New Westminster CRC.
Multicultural Worship Night is part of an ongoing partnership between
New Westminster Christian Reformed Church
House For All Nations Church (http://www.houseforallnations.org/)
Nanoom (https://www.nanoomca.org/),
working toward building relationships amongst Christians of diverse ethnic backgrounds.
We had our last gathering before the summer on June 6, we will resume in September!
---
Women's Thursday Fellowship
This group has been home to many young moms, especially those who speak English as a second language.
We had our last meeting on June 6, 2019, and will not be meeting during the summer. Looking forward to seeing you all again in September! And if you have any questions or want to initiate a get-together during the summer, please let Lin or Pastor Jun know! (hkim@nwcrc.ca)
Starting September 2019: Every Thursday, 1:00PM-2:45PM
Date: To Be Announced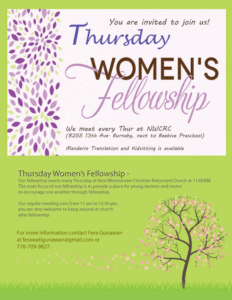 We're inviting moms to join our Thursday group at 1:00 pm-2:45 pm
In 2018, we studied a series of 9 subjects/chapters on "Sermon on the Mount" (workbook and DVD by Jen Wilkins).  We will announce the topics closer to Sept, 2019!
All English levels are fine as we will go thru the series slowly and will have it translated if needed. So far, we have Indonesian, Korean and Mandarin speaking moms in the group, and we're open for more to join.
Children are welcome to tag along in the group. The main focus of our fellowship is to provide a place for young women and moms to encourage one another through fellowship.
For more information contact Fera Gunawan at ferawatigunawan@gmail.com or 778-709-9827.
---
Looking for a free ESL course in Burnaby?
At our Burnaby, New West community at New West Church, we are offering Conversational English classes at no cost, once a week, every Tuesday, 10:30 AM to 12 PM, for 12 weeks.
Next Session

September, 2019

!
Every Tuesday, 10:30 AM – 12 PM for 12 weeks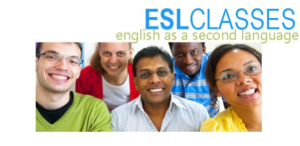 We have room for more students in case you know someone who could benefit from this program. Our program has been modified so that each week we teach new materials, allowing new students to jump right in and at the same time not disrupting the continuity of all students. We believe the students are benefiting greatly from what is being taught. Adults only.
If you would like to know more details, or register, visit the church website at www.nwcrc.ca/esl
---
Sacred Assembly Week
October 21-28, 2018 
to seek God's face
---
Looking for enriching activities and meaningful community in the Burnaby and New Westminster neighborhood?
CHILDREN'S MINISTRIES: CADETS (boys' club) and GEMS (girls' club)  are meeting every other Thursday from 7 PM to 8:30 PM , starting Thurs, Sep 15 at New West CRC. If you're in Gr. 3 to 7, you can join us!  Visit www.nwcrc.ca/calvinist-cadets or www.nwcrc.ca/g-e-m-s for more info.
YOUTH MINISTRY: Student Dynamics  is inviting all Grade 8-12ers to join their club nights on Tuesdays, starting Sep 13 at 7:30-9:00 PM at New West CRC. Any questions, please contact Pastor Ricky at here. Visit us here for more info: http://www.nwcrc.ca/sd/
YOUNG ADULTS BIBLE STUDY: every Thursday at 8 PM at MOSAIC Home. For more info, please contact us thru the form here:www.nwcrc.ca/mosaic
ADULT ESL Class: every Tuesday from 10:30 AM until 12 PM for 12 Tuesdays. Register at www.nwcrc.ca/esl.

YOUNG ADULTS – LOCAL/INTERNATIONAL STUDENTS:
Bible Study: Thursdays at 8 PM. For more details/location, please contact Pastor Jun here.
Sunday Lunch Fellowship: at 12 PM on Sundays. Contact Pastor Jun thru the link above for more info
Sunday Evening Hangout: at 8:30 PM on Sundays after the evening service. To know more about our young adults' ministry, please visit us here.