We also look forward to celebrating the Lord's Supper on this Sunday. If you are worshipping with us online, please remember to have bread and juice ready for our time together.
The Third Sunday of Advent Lord's Supper Worship Service: 2022-12-11
Advent Sermon Series: What Are You Waiting For?
Sermon: Waiting for Strength
Scripture: Isaiah 40:1-11
Preacher: Intern Student Pastor Sandra Park
For those who cannot attend in-person, our Sunday worship service will continue to be live-streamed and available online. 
Click HERE (livestream is not available at this time) to join this Sunday's livestream service.
To view past services, visit our Youtube channel.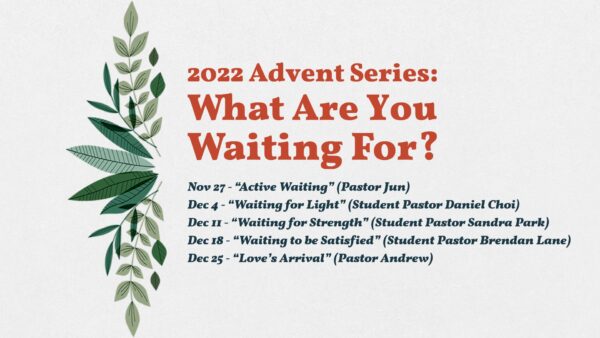 LORD's SUPPER: This Sunday, we will celebrate the Lord's Supper together in-person and online during the Sunday worship service.
We are separated physically, but still gathered together, digitally, at the same time. We trust that the Holy Spirit will unite us in to Christ and each other as we partake in the body and blood of our Lord. If you are worshipping with us through livestream, here are some simple instructions:
Please have bread and juice (grape if possible) ready before the Sunday's service; one portion for each person present.
For those worshiping with our families, opportunity will be given for each person to pass the bread and cup to each other. Consider using the words "The Body of Christ given for you" and "the Blood of Christ shed for you" as you pass the elements to each person.
Pastor Jun will lead us through some Scripture and sing.
We trust this "unusual" experience will be blessed by God so that we might experience the sacrament in a new but meaningful way!